The balance between intuitive and robust. The one system that gives you both, for next to nothing.
Easy Steps To Running A Full Professional Box Office
How Our Platform Works
Let's work together to sell your tickets and fill your seats. There is no complicated infrastructure to learn, no hidden setup or start up fees, and no headache and hassle.  Let us hold your hand through the whole process.
Setting up Your Individualized System
Information about your theater using our simple online form. Your organizations colors and logo
BookTix Delivers:
A virtual online box office and administrator management portal for your use, customized with your organization's colors and logo.
The online box office is complete with your show information, title, prices, multiple (if applicable) performance dates, locations.
A venue map for patrons to select seats and purchase tickets.
Hosting of the online box office and management portal on our secure servers.
A separate BookTix Live account (if desired), which we integrate to your online box office.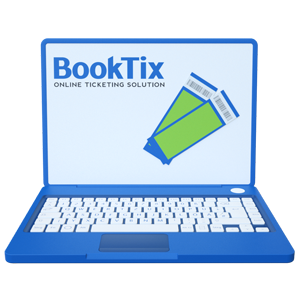 Promotion of your BookTix sales portal to your community.
BookTix Delivers:
A shopping cart experience for purchases that is intuitive and straightforward – it was designed for ease of use for audience members of all ages.
The ability for patrons to select the show dates and performance times of their choosing – including general admission, reserved seating, or a combination of both at preset price points.
A low, flat fee charge per ticket that is INCLUSIVE of all credit card processing fees (a unique fee structure to the industry that will save you money).
The ability for patrons to choose to print their tickets from home or pick them up at Will Call.
Tickets generated with a unique barcode for scanning at the door on the night of the performance.
The ability to sell one click, one device StreamPasses (virtual tickets) to any and all streaming shows you plan through BookTix Live
Showtime: Selling and Verifying Tickets at the Door
Internet, equipment and staff to run your box office and scan tickets as patrons enter the venue.
BookTix Delivers:
A powerful administrative management portal that allows you to sell tickets on the spot, while also having fingertip access to reports, seat holds, comps, and the ability to reprint lost or misplaced tickets.
Compatibility with a high speed thermal printer and professional ticket stock (free of charge) to print tickets on the spot with the click of a button.
The ability to scan patrons' tickets at the door as they enter the theater and find their seats. 
A BookTix Live virtual waiting room which recognizes when a StreamPass has been used on more than one device to protect your stream.
Post Show: Reporting and Accountability
Reconcile your books using our powerful and intuitive administrator portal. No more headaches of counting ticket stubs!
BookTix Delivers:
Instant access to detailed revenue reports and accounting for every show ticket sold.
The ability to download patron email addresses for marketing your future shows!
Ability to download a StreamPass activation details to see how many people logged into your streaming show.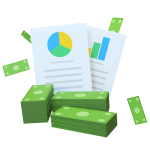 Mailing address or electronic account details.
BookTix Delivers:
100% of your balance in the form of a check or e-payment delivered within a few days. (We can also send you an early payout).
Our Most Popular Features

Marketing Analytics
Look for patterns and trends in your customers purchases.

Revenue Payment
Receive your funds quickly after your event via check or e-payment.
Customer Data
Keep your customers safe. BookTix does not store patron card data at any time.
Production Team Credit
Track and attribute sales to members of your cast and crew team.

Straightforward Reporting
Run a variety of financial, patron and ticket reports using our power report generator.
Custom Profile Variables
Collect additional data from your patrons.
Scan Reports
Review patrons after they enter your venue.

Departments
Coordinate access and payment by divisions of your organization

Website Link
Direct your patrons to a unique box-office website built just for your organization.
Facebook
Connect patrons to Facebook to encourage additional sales.
Advanced Sale Automation
Pre-plan when you release tickets to the general public.
Advertising on PDF
Generate additional revenue by selling ads on your print-at-home tickets.
Comp Codes
Generate codes to provide your volunteers codes to manage their own comp tickets.
Themed Web Portal
Brand your virtual box office with your logo and color scheme.
Cart Upsells
Allow patrons to add last- minute items at checkout.

Promo Codes
Offer coupon codes to patrons for discounts off tickets.
Mobile Friendly
Enable patrons to purchase on phones and tablets.
Items & Merchandise
Sell t-shirts, concessions, trip registrations and anything else you need, easily.

Donations
Accept gifts during checkout.
Pre-sale Control
Limit sections and prices to choice customers.
VIP Access
Grant special patrons early purchasing options.
Comps
Offer free tickets for marketing, VIPs or volunteers.
Email Marketing Lists
Collect patron emails for promoting future events.
Admin Permission Levels
Control access to your BookTix portal for each member of your team.

Seatmap Options
Offer reserved, general admission or a combination of both.

Show Details Display
Upload you show poster and list author's billing credits, synopsis, and other pertinent details.
Custom Seating Configurations
Seat patrons in traditional or unique seating layouts.

Free Venue Map
Allow BookTix to build your seating chart at no charge.

Easy Show Builder
Create new events simply and quickly.

Admin Portal
Provide access to your management team to access financial reports and marketing data.

Advanced Edit Features
Tools provide you the ability to edit many details yourself.
Emergency Hotline
Reach the BookTix staff with your urgent issue minutes before your show.
Credit Card Options
Accept Visa, Master Card, Discover, American Express.
Flex Passes
Offer multiple events, redeemable at the convenience of your patrons.
Hold Seats
Block seat locations for later use.

Mobile Ticketing
Allow for paperless entry redemption.

Payment Options
Collect cash, checks and credit cards at the door.
Season Tickets
Sell tickets to a collection of events for one payment.

Free Ticket Stock
Receive professional, Broadway style ticket stock to use with your Dymo printer. 

iOS App Download
Download the BookTix App for additional scanning and purchase options.
Secure Card Processing
Safeguard your audience by using the BookTix PCI-Compliant Payment Platform.

Ticket Options
Sell print-at-home, will-call, point-of-sale and mobile tickets.

Point-of-Sale Tool
Sell in person with integrated, real-time sales platform.

Ticket Verification
Scan unique barcodes to prevent fraudulent copies.
Refunds and Exchanges
Process changes to order if you choose to offer this service.
Door Pricing
Offer additional prices for in person sales.

Tiered Pricing
Offer a number of different pricing options per seat.
We are here to answer your questions!
Check out our frequently asked questions.
Want to see a demo, have additional questions or just want to chat more?
Check out our frequently asked questions.
Want to see a demo, have additional questions or just want to chat more?